If you are just catching up, this is the fourth installment of our real food School Lunches series. You can look back at Part 1: The Tools, Part 2: Nine Time Saving Tips, and Part 3: Menu Planning. If you aren't already a follower of our Facebook page, you're missing out on some pretty great discussion and tips! You'll want to click on over and join. I welcome you to ask questions or share your natural living and real food cooking tips right on the wall to spark interest and discussion from everyone!

Now that you have all the tools and tips to prepare healthy whole food lunches in advance, saving you time and money, it's time to give you some fresh recipe ideas for packing school lunches. Let's spice it up and keep your kid(s) engaged week after week!

SANDWICH BREAD ALTERNATIVES

We skip the bread all together in our house. Instead, we use lettuce or kale wraps, turkey wraps, cucumber sandwiches, raw apple ring sandwiches, my almond flour tortillas, or these raw coconut wraps from Improveat.

*An important tip on lunch meat. You want to choose a Nitrite & Nitrate-free brand, also 100% free range or pastured turkey or chicken and 100% grass fed roast beef. Ham is not included on the Core or Advanced Plans, and I recommend staying away from pork all together for many other health reasons.

Here are some ideas to go bread-free in the lunchbox:

- Cucumber sandwiches or cucumber cups stuffed with salmon salad, chicken salad, or hummus

- Cucumber sandwiches with sliced nitrite/nitrate-free turkey, raw cheese, and hummus


Make mini pizzas or cut homemade pizza into squares
-
Make
mini pizzas
using one of my
grain-free pizza crust recipes
, top with hummus or tomato sauce and roasted veggies
-
If you're anything like me, you stand by your classic chicken salad recipe. Switch it up with
chicken fruit salad
(shredded chicken, segmented orange or grapefruit, sliced grapes, diced apple, diced pear, all tossed with homemade
poppyseed dressing
). Serve in a lettuce wrap or over greens.
- Cold turkey meatballs
with cilantro-mint sauce served over greens or in a lettuce wrap.
-
Turkey wraps.
Now I know it sounds weird, but this combination is REALLY yummy. Spread horseradish flavored hummus across free range deli cut turkey. Lay down a lettuce leaf and a couple thin slices of cantaloupe. Roll up and secure with a foodpick.
- Black bean burgers
are pretty good cold or room temp. I like mine over lettuce with
chipotle mayo
. Dave likes his sliced and wrapped in an
Almond Flour Tortilla
.
- Grainless or sprouted grain waffles
used as sandwich bread. Slather with coconut butter, sunflower seed butter, unsweetened fruit preserves, organic cream cheese,
apple butter
, or apple sauce and make a sandwich! Waffles can be made in advance and frozen. Thaw in fridge overnight the day before you want to use them.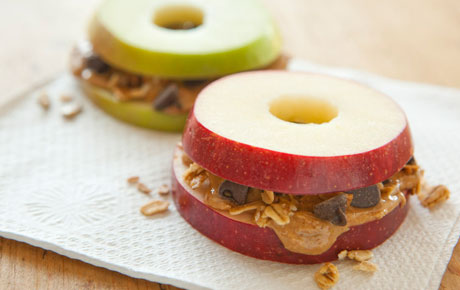 Kids love apple sandwiches!
- Apple sandwich
from cored sliced apple rounds filled with almond butter, sunflower butter, coconut butter, raw honey, and optional raisins/oats/nuts/seeds.
- Grain-free chicken strips or nuggets
with
chipotle mayo
,
homemade ketchup
, or honey mustard dipping sauce.
-
Quinoa packs a lot of protein in a small serving. Make a
quinoa salad
. Mix in a variety of veggies or meat/poultry/fish and keep it exciting. Some of my favorite quinoa salad recipes include:
Quinoa Apple Salad
,
Mediterranean Salmon-Quinoa Salad
,
Quinoa Veggie Salad
.
-
Instead of tuna salad (because tuna is not recommended on the Advanced or Core Plans), opt for wild caught
Alaskan salmon salad
. 2 cups Alaskan salmon, 1 diced green pepper, 1 diced cucumber, 1/2 cup chopped onion, 1/4 cup fresh mayonnaise, 2-3 Tbsp fresh lemon juice, sea salt, pepper; mix it all together with a fork. Roll in lettuce wraps or spread over top salad greens.
- Banana Sandwich
. Raw almond or coconut butter and unsweetened raisins sandwiched between a banana sliced in half the long way.

NEW SIDE DISH IDEAS
- Berries covered with coconut cream
instead of yogurt (the cream is at the top of the can of coconut milk, the thick white part). This works well in the winter using thawed frozen berries.
- Bean salad
mixed with roasted veggies, olive oil, and herbs. Or a more raw version, like my
Black Bean Confetti Salad
.
Beet Hummus
- New hummus flavors
(
beet hummus
,
zucchini hummus
,
broccoli hummus
,
green herbed hummus
,
roasted red pepper hummus
,
roasted garlic hummus
,
cilantro-lime hummus
,
sweet potato hummus
,
artichoke hummus
,
sour cream & onion hummus
,
sun dried tomato hummus
,
guacamole hummus
)
- Veggie chips
(
sweet potato chips
,
kale chips
,
zucchini chips
,
carrot chips
,
avocado fries
,
beet chips
)
- Raw apple sauce
by pureeing a granny smith apple, peel and all.
- Caramel dip with sliced apples
- Homemade Larabars or fruit leather strips
-
Protein packed
healthy baked goods
(check out my
desserts section
for ideas)
-
Egg bakes
, like a sliced
vegetable egg frittata
- Make a nut butter alternative for dipping apples & celery
. Whip together softened coconut butter with sunflower seed butter, a little almond milk, and powdered xylitol in a stand mixer. Stir in raisins (optional).
- Egg salad
can be switched up a couple different ways:
Classic Egg Salad
and
Deviled Egg Salad
.
Strawberry-Kiwi Greens
- Homemade 'Gogurts' or pushpops
using these
silicone molds
(or
these ones
). We own the first set. You can create so many different flavors. Add plain yogurt, fruit blended with yogurt, fruit & veggie smoothies, mango pureed with coconut, fruit chunks with
Strawberry-Kiwi Dynamic Greens
, protein shakes,
Key Lime Pudding
,
Chocolate Pudding
….so many options!
- Organic frozen veggies
, thawed overnight in the fridge. I store bags of organic mixed veggies in individual sized servings so I can pull from the fridge easily without measuring the night before, ready for the lunchbox in the morning.
- Fresh homemade salad dressings
taste so much better than store bought. Your child is more likely to eat their spinach, kale, or lettuce if it tastes good. Try some of my favorite quick and easy dressing mixes:
9 Fresh Dressing Ideas
,
Creamy Cucumber Salad Dressing
,
Ginger Lime Dressing
.
KID FRIENDLY SOUPS & CASSEROLES
Thermos brand hot cups
Switch up the sack lunch with a hot soup or casserole. Preheat the food AND the
Thermos cup
the in the morning. Lunch will still be hot come lunchtime! Remember, you can maximize your food budget by buying in-season fresh produce and freezing it for use later in the year, like the winter when fresh local veggies are scarce. You also save time by making recipes in double or triple batches and freezing for later use. I like to store individual servings of soups and casseroles in jars in the freezer for quick and easy lunches. Some of my favorites to make now and freeze for later:
- Chicken Minestrone
- using extra vegetables or beans instead of pasta and whatever veggies are fresh and cheap
!

- Chili
, oh how I loooove chili! I like to switch it up, making a different chili recipe every few weeks:
Pumpkin Chili
,
White Bean Chicken Chili
,
Healing Cuisine Classic Chili
,
Turkey-Bean Chili
,
Texas Chili
,
Three Bean Chili
,
Quinoa Chili
,
Moroccan Chili
.
Pacific Natural Foods organic soup
-
We get the Pacific Natural Foods brand of
Roasted Red Pepper-Tomato Soup
, the low sodium version. It's Core Plan approved and from a brand I can trust. It's a cheaper and easier option than buying my own tomatoes and making the soup from scratch. I love that it's organic, especially because conventional red bell peppers are on the Dirty Dozen and conventional tomatoes are treated with some pretty bad pesticides! And, the Pacific Natural Foods cartons are BPA-free, which is a step better than canned soups or other carton brands!
- Enchilada Chicken Stew
- Quinoa Broccoli & Cheese Soup
- Smoked Turkey Split Pea Soup
- Tex-Mex Squash Bake
-
Homemade Hamburger Helper
- Chicken & Dumpling Soup
- Leek & Potato Soup
Do you have any tricks up your sleeve for switching up your child's school lunch? Please share in the comments section or on our Facebook page!